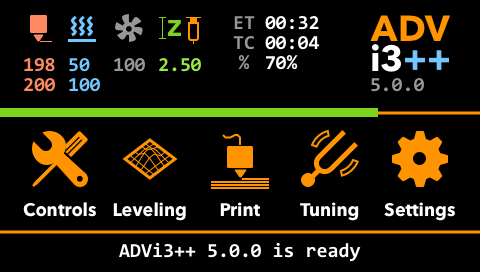 As announced on ADVi3++ Community in January, version 5 is in development. In fact, since January, I have made great progress. The development version is now in phase with the latest release of Marlin (version 2.0.7.2) and all planned features are implemented.
I am now in the final test/debugging phase. I plan to do this during April and release version 5 somewhere in May.
Here are the new features or changes in version 5:
Based on Marlin 2.x branch
Direct editing of values on the LCD panels
Disabling of LCD panel beeping (it already works in version 4.0.6 for some panels, but not all)
A better support of Advanced pausing (M600)
Replacement of Jerk by Junction deviation (new feature of Marlin 2.x)
Better baby stepping
Estimation of printing time
Unification of BLTouch pre-version 3 and version 3.x (i.e. only 1 binary for all BLTouches)
A tool to compensate X-axis twist when using BL-Touch
A new setup screen when you reset settings
A new screen to help you diagnosis BLTouch problems
A better way to detect when there is a hardware problem between the LCD panel and the mainboard.
Thermal Runaway control will now be mandatory
Less SRAM memory usage
A tools (i.e. microSD image) to reformat the LCD panel
Several small changes in different screens
Again, thank you all for your support especially those who are supporting ADVi3++ for more than two years. It is so incredible.
Regards
Sebastien