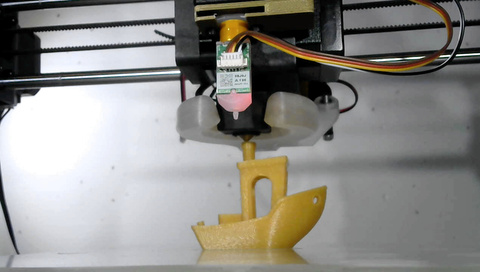 After almost one year of work, ADVi3++ version 4.0 is here! Thank you a lot to all supporters of the project. It would not be possible without you.
There are many changes in this release and a complete list is available in the Changelog. Below are some highlights:
New features
Full support of BLTouch including BLTouch Smart v3.
New automatic bed leveling, more faster, and does not use the Z endstop anymore.
Pre-configured bed leveling sensor supports and possibility to enter your own values.
S-Curve Acceleration support.
Linear Advance support. You can set the K value in Settings / Motors / Linear Adv.
Multiple PID values recorded and auto PID tune. When a target temperature is set, choose the closest set of PID values.
PID Tuning of the heated bed.
G26 Mesh Validation Pattern tool support. Not yet in the LCD Panel UI.
Live Z adjustment (Babystepping).
Align ADVi3++ with the latest 1.1.9 patches from Marlin
Aldi Balco UK printer (HE180021) support including builds of HE180021 with BLTouch and BLTouch Smart v3 support.
Wanhao i3 Plus Mark II support (except power loss recovery).
Add messages during PID tuning (such as "cycle 1 / 3")
Diagnosis page with the live state of several digital and analog lines
Progress is now updated when printing.
On the Move page, Y direction is now inverted (more natural especially when your LCD panel is tilted).
G20, G21, M149, M0 and M1 support.
Fusion of the ADVi3pp-Marlin and ADVi3pp-LCD projects into the ADVi3pp project on GitHub.
Enhancements
Add a progress bar during printing
During SD print, displays the remaining time in percent
Be able to cancel a PID tuning
Allow bigger values (>800) for motor steps.
Disable drive when stopping print
Add free memory (SRAM) in statistics
Show page number on SD Card screen
Clear the message on the display when G4 is finished
Binaries
Pre-build binaries are published on ADVi3++ Community but are only available, for the moment, to sponsors of the ADVi3++ project on Patreon. So if you are not a sponsor, you have to generate the binaries yourself.
If you are a sponsor, login here with your Patreon account and get the binaries from Pre-build binaries.
Source code
Complete and up to date sources are published on GitHub:
Support
Since version 4.0 is now published, I will again do support for everybody (supporters or not) but supporters have the priority.
For support requests, please use the new ADVi3++ Community - Get Help web site I put in place recently (based on Discourse). You can also use the search feature in order to look for past similar issues.
The updated User Manual is no more on GitHub but also on ADVi3++ Community.
Sponsors of the ADVi3++ project have access to advanced topics: